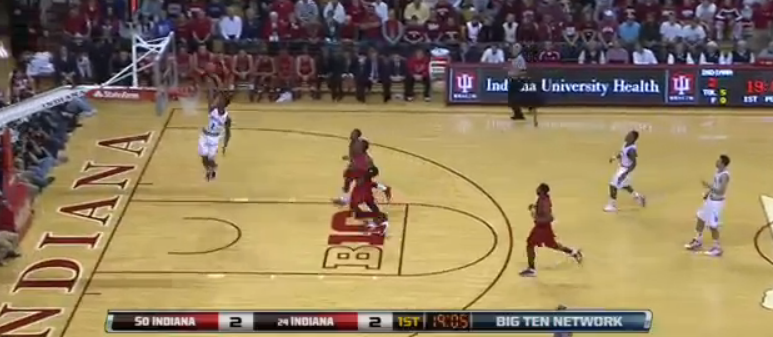 Well, this will be new for all of us. I am especially excited for our new home and new features. This is one of those. As the year goes on, I will probably involve stats more and more. This game had so many questions going into it, and the stats wouldn't do it justice for some of the players.
Troy Williams - Kid is going to be a stud if he keeps working the way he does. His athleticism was as impressive as I can remember for a freshman. He was all over the place. At times he was the superior player on the court. He had a block toward the end of the game only Vic could compete with. Solid line of 10 pts / 10 rebounds / 3 blocks.
Noah Vonleh - Made a bold prediction during the game, he would lead the league in rebounds. I don't feel I am overhyping him because he is a Hoosier either. The ball finds him in a Reggie Evans sort of way. It just always seemed to bounce his way during the game and he has as sure of hands as I have seen. He led a break and looked comfortable doing so. He knocked down a 3 from the top of the key. He also went 0-5 from the line. He has some work, but they all do. 9 pts / 12 boards
Yogi "I want to be Jordy" Ferrell - Well, it was the two extremes I think we see from Yogi this year. He was fantastic from 3, hitting 6-10. The flip side is he was very loose with the ball having 4 turnovers. At times he was looking for the spectacular play, instead of the smart play. That said he had 20 points on a solid shooting night. He will be just fine in this new role.
Will Sheehey - He just seemed off tonight. Like many times last year where he would get lost in the shuffle, he seemed to tonight. He will have to be more assertive for us to be successful. Not only that, he will have to be more consistent.
Best of the rest - How about Hanner Perea? That kid was shaky at first, but got it going and just looked comfortable. He hit a baseline jumper outside of anything Zeller hit in 2 years at IU. He went 5-5 from the line on a night where nobody could hit. He was active on defense and on the boards. If he keeps working he adds to the depth we were sorely missing last year. Jeremy and Evan played large roles, and you can see how much Crean expects out of them. To me, they were mostly blah. Jeremy didn't look any different than the player that couldn't find his role last year. Crean had him out on the point a few times. We will see if they can gain some confidence in an early season schedule that will allow for some missteps.
Bottom Line - Two things really. It is basketball, and we are IU. It is most definitely a different year. This is a team that will have to win in transition, and will come nowhere near the efficiency of last year or probably even the year before. I feel better than I did heading into it. I was impressed by how assertive Hanner and Luke were (even if he didn't have the greatest game). That just means we will have depth we haven't had in Crean's tenure. I can easily see a team where we are going 10 deep regularly. Last year we struggled to go beyond 7. The flip side to that is we will need it. We aren't the well oiled offensive machine of last year. We will rely on defense and athleticism to win games. Going forward I will probably rely a lot more on stats. This game was more about seeing what positions Crean put his players in. I am excited for the upside of this team. There will also be nights where I will probably drink myself to sleep. That said, if there is anything you guys and gals want me to add, let me know.