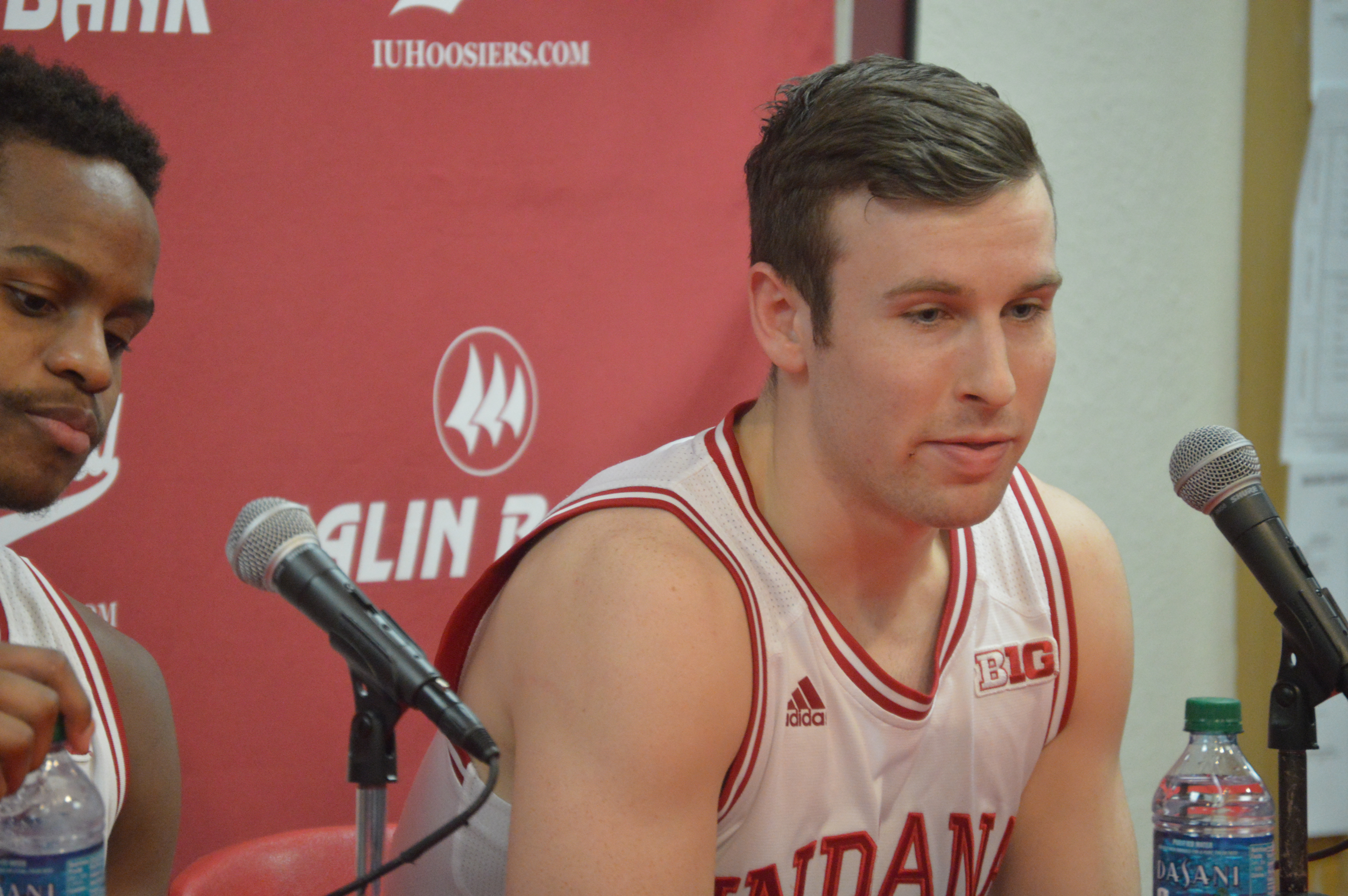 All week around campus, there was a buzz about Thursday night's game. Would IU pull off the upset? Would it get demolished on its home court? I have to admit, I was nervous to see which IU team would show up. But nevertheless, IU would get a chance to play a top-five team, at home and in front of a national audience.
The energy, the stage and the opportunities cannot be matched anywhere else. The fans played a big part of it and once that energy gets rolling, there is no slowing down, Niego said.
Niego only had two points in seven minutes, but it's guys like him that gave the Hoosiers the depth to rally back against Iowa. Despite a 16-point lead in the first half, IU ended up trailing by 4 points in the second half. But that's where the bench came in. IU had 28 bench points, while Iowa had 0.
Nick Zeisloft, Max Bielfeldt, OG Anunoby, Juwan Morgan and Niego all played, and all scored for the Hoosiers. With Yogi Ferrell struggling to make shots, Thomas Bryant in foul trouble and yet another unpredictable and unreliable performance from Troy Williams, the IU bench is what keeps this team grounded.
Coach Tom Crean admits Ferrell plays too many minutes. Crean also admits that it is his fault. Niego is good, but he's still young. He doesn't have the confidence and experience yet to give him more playing time.
It's obvious for one to see Niego is overthinking things out on the court, passing up opportunities to score. He still looks timid.
"Sometimes Niego is his own worst enemy and we just wanted him to play fast," Crean said. "I wouldn't say reckless, but try to play fast and be really, really cognizant of moving the ball to people and be confident that he's out there and not worry about who he's matched up with, just do his best job."
I'll admit I was really worried for this year when news got out James Blackmon Jr. would be out for the season. But the problem now seems to be that the Hoosiers have too many guys who can fill Blackmon's spot.
Other freshmen like Anunoby and Morgan play more than Niego because they are bigger and they have more versatility, but that isn't to go against Niego and say that he's not capable.
"[Niego] is tough," Crean said. "He's a tough, young guy. And he's got to play more. I mean, it's been me, not him. I've just been playing those other guys more. But we have to have another guy that can handle the ball. And I was really proud of the way he played."
Niego's only points, and only shot, came with about 9 minutes left in the second half off of a baseline jumper to decrease Iowa's lead to two. He's a good shooter, but he still remains just a little too shy on offense.
However, I'd rather have him be too timid than be too out-of-control. As we've seen with Williams, it is not a good habit to have too much confidence and the mindset that one can do no wrong.
It seems as though all Niego needs is a little encouragement to spark his attack on offense. He plays the best when he trusts his instinct.
"Yogi is a great leader, he always tells me to be aggressive and look for my shot," Niego said. "But when these guys instill confidence in me like they always do, it's real easy just to kind of revert back and knock down a shot or two to help us.
IU really showed its depth on Thursday night and they proved again, that Assembly Hall is a tough place to play if you're the visiting team. Sure, Ferrell, Williams, Robert Johnson and those guys get some of the credit, but without IU's bench, these wins wouldn't be happening.
This wasn't the first big victory for IU this season, and I definitely don't think it will be the last. IU has balance in its lineup and that will come to make a big difference down the stretch. The fact that so many guys can contribute makes this win nothing less but a team effort.
It wasn't an easy victory for IU, but it was a meaningful one. Despite talk of the 'easy schedule,' the Hoosiers have earned their wins. And at this point in the season, I'll take a win, no matter how they come.