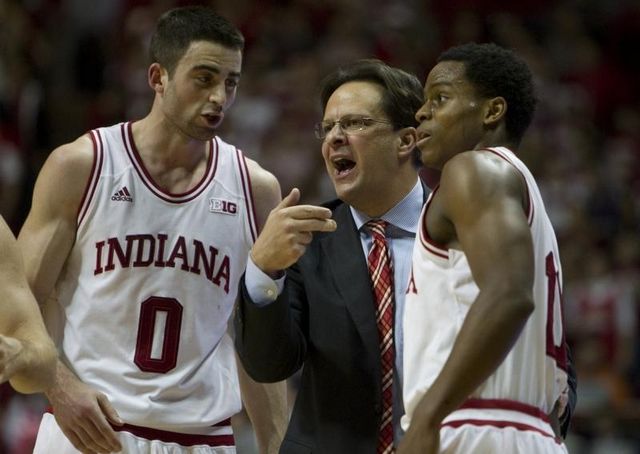 The Indiana Hoosiers came out against Washington going 100% all the time, and they never let up. Indiana is now known for its three man attack, consisting of Noah Vonleh, Kevin "Yogi" Ferrell, and Will Sheehey. Those three did not disappoint, and helped lead the young Hoosiers to a dominant 102-84 victory. Ferrell (20pts), Sheehey (16pts), and Vonleh (18pts) combined for 54 of IU's 102 point total. IU could not ask for much more from the trio. Vonleh showcased why he is one of the best Freshman this year, Sheehey showed why he is one of the best at the backdoor cut and tremendous leader, and Yogi proved he belongs with the best guards in college basketball.
However, IU may have found a fourth to go along with its three man attack. That man, was Troy Williams. Williams was sensational (channeling my inner Dickie V), leading IU in scoring at 22 points. His energy, toughness, and athleticism will have him as a favorite among the IU fans. While he can be wild at times, you can't deny what he can bring, and what he will bring in the future. IU's offensive attack may have just added another key piece that defenses will not like to guard.
IU keeps continuing to impress the country with its rebounding, both offensively and defensively. IU ended the game with 50 rebounds, while 20 of those coming from the offensive end. Washington was only able to grab 29 total rebounds. IU's tenacity and length really help set them apart on the glass, and will continue to keep them in games when they are struggling.
Besides rebounding, it was great to see IU shoot a high precentage from the free-throw line. In IU's previous game against Stony Brook, they managed to make slightly over 50% from the line. Not a very good characteristic to have when going up against teams in close games. However, IU was able to shoot 86%, going 31-36. Hopefully this will be more of a trend from our Hoosiers going forward.
This IU team continues to improve each and every game, and it is a must for this young team. There will be some bumps and bruises along the way. Luckily, this IU team is an extremely determined team with depth, and a will to just keep attacking. IU is not a great shooting team, and they know they are at their best when driving and getting into the lane.
It's now time to take care of another breed of Huskies in UConn. Come on Hoosiers, it's time to take care of business!