0
What We Learned: Chicago State
Nov 09 2013 09:06 PM | jwilson122990 in
Basketball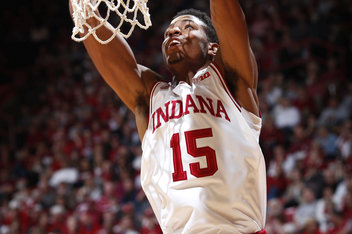 On Friday night we learned just how deep this Indiana roster goes. Which has to have all of Hoosier Nation smiling from ear to ear. Scoring 100 points total with 39 of those coming from the bench. Devin Davis and Evan Gordon set the pace with 10 and 8 respectively. That is one feature this team has over last years team. And that will play critical come tourney time in March.
Another key feature; EXPLOSIVENESS! My goodness does this team have an explosive trait that we haven't seen from an IU team in quite some time. This team likes to run and play above the rim. And I know it was just Chicago State but the Hoosiers did fill in the scoreboard. This could be a good thing for the young guns on this team. Seeing shots go in early and often will be helpful over these first few games to get some confidence built before IU starts playing some more formidable opponents.
The only negative from this game was IU's perimeter shooting. The Hoosiers shot 1-8 (12.5%) from deep which could be concerning if teams implement some zone defense or teams that have a very good inside presence. Hoosier fans have been used to some sharp shooters over the last 4 seasons. Probably won't get to see much of that this year. We've seen Yogi, Troy, and Hollowell hit some outside shots. Thie big question will be how effectively can the Hoosiers shoot the long ball this year. That will have an impact on the outcome of some games in the Big Ten this year.
All in all the Hoosiers put on a good performance Friday night. Big thing for this young team will be taking this season one game at a time and trying to improve in each one.
Photo Credit: Getty Images
Article: What We Learned: Chicago State

Skins By IB Themes