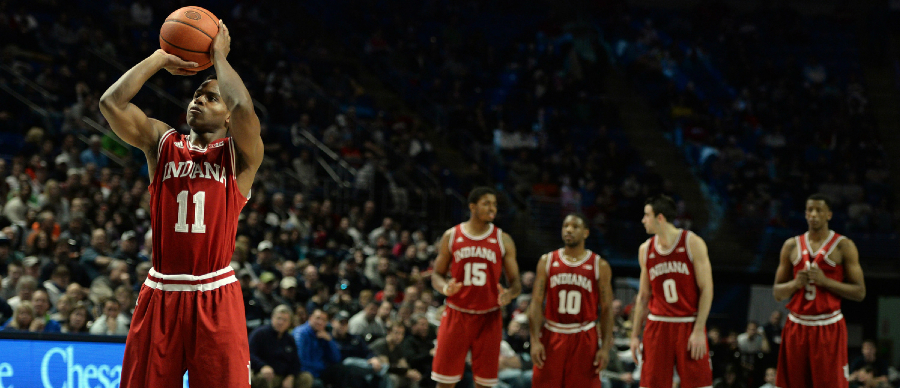 Here is a look at some of the story lines, improvements, and continued concerns after another week of Big Ten basketball:
Still Surrendering Threes
Indiana continued their trend of giving up open three point shots Saturday. For the second straight game, the defense gave up over 20 three point attempts with a majority being uncontested or lightly guarded. Luckily PSU only hit 8 of their 23 attempts, or yesterday's game may have ended differently. Yet, somehow the Hoosiers are actually ranked 13th in the country in terms of three point defense with opponents only converting on 28% of their attempts. A seemingly odd statistic, since it's abundantly clear to everyone (including BTN analyst Stephen Bardo who made more than a few jokes at the expense of the Indiana defense) that the defense has not figured out how to rotate yet. Yogi Ferrell says the Hoosiers are over-helping when opponents drive to the basket, but it really all comes down to a lack of communication, an issue Tom Crean foreshadowed all the way back in October before the season even started:
The communication on defense right now is something that's a crisis for us. It's not a crisis because it's five days in, but it's a crisis because if we don't get it, if we don't have great communication with this young of a team, they don't have their experience to fall back on. They've got to be together on this on the communication. I always say defense is about exclamation points and offense is about bullet points. You've got to be emphatic with ,'Help! Ball! Switch!' whatever it is. You've gotta be emphatic with that. And that's gonna take us a while. That's my greatest fear, that that takes us too long.
This quote could have easily been pulled from a press conference this week. Four months later, the same problem persists.
Stanford Robinson Emerging
(photo credit: insidethehall.com)
Freshman Stan Robinson's minutes and impact on this team seem to be increasing in dramatic fashion. Not surprising given that he had the highest plus/minus on the team coming into B1G play, and according to Crean "it wasn't even close." His 1.3 turnovers per game in B1G play are forgivable, his 7 points per game won't blow you away, but his energy and defense have been invaluable. Last week he was the only Hoosier who seemed to be able to slow down MSU star guard Gary Harris. This week, he (along with Yogi) held PSU star Tim Frazier, who had been averaging over 16 points per game, to just two field goals. Robinson's most valuable contribution is one that won't show up in a box score. Crean calls him a "blue-collar, go-at-it guy" who has a "desire to compete" that the team needs.
Offense Improving, Struggling
Have the Hoosiers finally gotten the message with regards to inside-out ball movement? It looked like it Saturday. Noah Vonleh at least touched the ball on over 80% of Indiana's first 15 possessions, and it paid off. Vonleh not only scored IU's first 12 points of the contest, but even when he didn't score, good things happened when the offense ran though him. He again disappeared somewhat in the second half as he only took two shots (a three and a dunk) in the last 20 minutes, which he converted.
It's a good thing Noah started hot, because Sheehey and Yogi did not. Yogi did not make his first bucket until the 3:45 mark in the first half, and Sheehey, for the second week in a row, didn't record a point in the first 20 minutes. Sheehey hit some big shots in the second half again this week, and Yogi finished with 15. But the two leaders of this team need to develop more consistency if the Hoosiers want to have a chance against better teams...
Like, say RPI ranked #1 Wisconsin two days from now.
Speaking of RPI rankings, Penn State was the second highest RPI ranked team the Hoosiers have beaten this season behind Washington...neither is in the top 100.
Many miles to go.