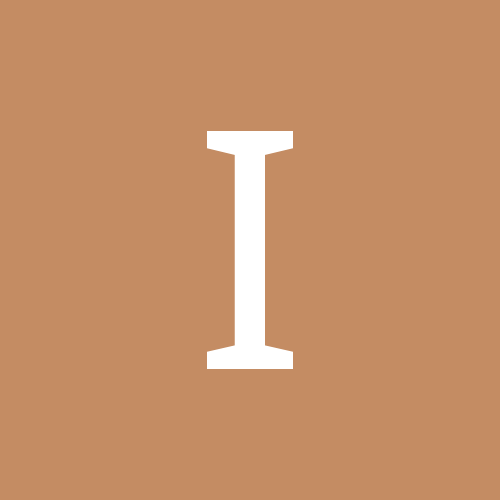 Content Count

48

Joined

Last visited
Everything posted by Indy
Simply. Awesome. I know the start to the season was rough, but I was so glad we had a guy like Mercer leading this team so I was not worried about the team in the long run. Not going to say I expected a Big Ten Title, but I was certain we'd be right in the mix. We've seen some really good Indiana teams over the last 8-10 years. It's nice to see this program bring home a Big Ten Title. Well done, boys!

Wow. Never saw this coming. I have a TON of respect for JB and the program he has built at UofM. Not only that, but the way he conducts himself on the sidelines and how he has continually made it known how he feels about the cheaters in this sport. Sad day for the Big Ten to lose a guy like this.

Sincerely appreciate all of the updates from you all!

After recent performances on the court you knew this had to happen. Losing at home ... to Liberty ... when folks are already calling for his head on a platter. It almost looks like the team quit on him. I think he would excel at a school like VCU or Creighton where the fanbase won't be upset with 20-25 win, and early exit season. He's just not shown the ability to get it done when he's in the bigtime. Wonder if he has any regrets about leaving what he had and had built at New Mexico.

Two things. 1. Phinisee...wow. I was telling my family how much this kid already looks like a seasoned veteran and will be an incredible 4-year player for this program. I think he jumped 12ft in the air to get that shot away. 2. Be honest. How many of you were yelling at the screen when the clock was counting down and Indiana was not getting into a set. I was still yelling when the shot went up, yelling as it was in the air, and may have even said I hope it doesn't count when it went down. We see this time-after-time and it just makes no sense to me that you can say that's the best last-shot offense. Why not start to attack at 8 or 9 rather than 3 or 4? Anyway, it was certainly a gritty effort by our boys and I am very happy that CAM kept them focused and lit the fire to push them over the top.

Some of the chatter in other threads got me thinking. I'd love to know what other IU alum (or even those who started at IUB but finished elsewhere) enjoyed the most about their Bloomington experience. I was a Freshman in the fall of 1990, lived in Teter on Thompson 5. Yes, THAT floor, the one that was notorious for lighting a couch on fire and shoving it out the window every year. Well, it did happen again that year, but the mental midgets that did it failed to account for the fact that the new couches were actually too big to fit out the window. They didn't realize that until after the couch was already propped up in the window and ablaze. Good times. Anyway, things I loved: --Warm-and-Sticky's from Brad's (a desert for $3 that was loaded with everything you can imagine...and aptly named) --Hoosier Hoagies from Dagwood's --A Yard and some Leprechaun Wings from Irish Lion --Getting distracted on the way across campus on a warm spring day and never making it through the arboretum --The Walk of Shame from Forest, back when Forest was NOT Co-Ed --Crossing those tracks behind Brownstone Apts every day for three years without fail, until the one day two honeys were walking behind me and I tripped and fell, sprawled across them (the tracks, not the honeys) --Getting to rush down to Showalter after some HUGE basketball wins from 1990-1992 --Watching MEANINGFUL Indiana Football games --Memberships at the IU Tennis Pavillion ... loved it until I fell and starting getting that surface crap under my skin --Summers in Bloomington. Period. And others will pop into my head later I'm sure. Looking forward to reading about your time at IUB!

Love that this was pseudo-revived this fall! My daughter is now knee-deep in the college search and as much as i had hoped Indiana would be on her radar, sadly it is not. It's amazing how poorly Indiana sells itself, comparatively speaking. Her visits to UK and Auburn were INCREDIBLE...IU was ... meh. To be fair, for what she wants to do Indiana is not a top-tier school, so they had a lot of ground to make up anyway. But no ground was made up at all, unfortunately. My stories and positive B-town experiences could only go so far with her!

Absolutely agree with this on so many levels. One of the things I think we are really going to love is how aggressive Mercer will make this team on the base paths. If not immediately then we will certainly see it once he brings his guys on board through recruiting. I think it would have been a colossal mistake to bring back a guy that already left the program once, so I'm very happy we didn't see Glass go Smith, vol 2 with this hire. Now we just have to hope that Mercer is a guy that can not only sustain the program's continued momentum, but also want to be the guy to stick around and continue Indiana baseball to the next level. I'd hope after about ten years of success that this program has finally established itself as not only the best of the Big 10, but one that can stay atop that lofty perch.

Not sure where you heard that, but this snippet from an online article made it very clear he wanted that job: (and Oregon State's HC devoted part of his post-game presser to publicly lobby for his friend as well) Henderson wants the job After remaining silent for weeks about the prospects of having the "interim" tag dropped from his title, MSU interim head coach Gary Henderson made his case for taking over the job permanently when asked directly about it at the post-game press conference. "I'm just really optimistic," Henderson said. "That's coach (John) Cohen's decision. He'll do a good job with it.

This truly is asinine. This guy is talking longer than RL's HEAD COACH. Totally and completely unnecessary.

Late to the game in responding to this, but just wanted to join the chorus of voices that have stated how happy they are for CTC. I think a situation like UGA is PREFECT for him. I'm definitely surprised at the annual salary, thought. Would not have expected them to pony up that kind of cash. Hope he does very well there, except when they square off against Auburn!

Wow. Okay, I see exactly what I'm dealing with. Again, you quoted me and accused me of saying something I never said. That's not okay, or to use your own words, "out of line". My guess is this is not the first time you've been the thought police and won't be the last. I'll be sure to contact you in the future to make sure I'm not implying whatever it is you don't want me to imply. Thx so much for the lesson. Good to see Lavar and his treatment of his sons and a whole lot of other people is supported by you, as that is what you seem to be implying.

....Good Lord. If that is what you actually accuse me of saying, well, not sure what to say. Perfect example of someone completing missingvthe point and accusing someone else of saying something that was never typed or implied. Go read your captured quote of me and show me where I typed anything close to what you just said.

At what point are his kids going to step up and realize: 1. Their father is a pompous, arrogant, bully who does not respect women or any authority other than his own 2. They are old enough to make their own decisions and do NOT need their father who is obviously ... 3. USING them as his own nest egg. He had no talent to make it on his own, so he's pimping his boys to make his money. Think about it. What does Lavar do? What is his full time job? Where is his retirement money? This is not about what's best for his son. It's about what is best for HIM. To think so many deserving parents cannot have kids of their own while this guy uses his for his own selfish gain from start to finish. What a pathetic individual.

Nothing and I mean NOTHING this guy says or does surprises me anymore. "I don't want no distractions on Melo. So therefore I'm going to home-school him and make him the best basketball player ever." Really? So not only could you have beaten MJ, but now you're qualified to teach your son things like Pre-Calculus, and Physics? Because I'm pretty sure those would be required courses for a kid graduating HS in the state of California, not to mention UCLA would probably require some very specific courses. And here's a newsflash, Mr. Ball, YOU are the distraction. But this quote from his son takes the cake: "...I can spend all my time now and dedication into it instead of going to school and doing book work". ...I don't even know where to begin with this one. In 10-15 years I shudder to think where this kid will be with no pro job and absolutely no prospects for a back-up career.

Ummm yeah, that's someone who didnt watch ONE minute of that game. Duke was kicking our @$$ up and down the floor, and I'm 99% sure they had a 20-point lead in the first half. That's is certainly not coming out flat. One of the best IU games ever, IMO, given the stage and the opponent, culminating with Moye's block of Boozer. I have the game on DVD dubbed over with Fish's radio play-by-play.

That was a fantastic article about a kid that seems genuinely excited to be a Hoosier. And reading about how CAM's teams play a relentless, swarming style...holy crap I just cannot wait to get this new era of Hoosier Hysteria started. I missed the '87 title by three years, and was on campus when the 92 team got crapped on...it's been long enough for us! Side note...really been since the days of Abernathy that Indiana has landed a top target out of South Bend? Wow.

Uggghh. And this is what is wrong with the system right now. The people paying outrageous prices for NBA tickets, apparel, parking, and food in and around arenas are the ones fitting the bill for guys like Bryant to improve his game while riding a bench or even playing D-League games. Call me old school but the NBA was a much better product when these kids developed their game at the college level and came to the NBA more seasoned and ready to play. At any rate, I certainly do wish TB well and sincerely appreciate the energy and enthusiasm he brought to the floor. That's a big loss for this squad, but I do understand the rationale and I know it does help our current "overage" situation as well.

Man, Eric Anderson was so solid! Did he ever miss from 15-20 ft? Tom Abernathy needs to be on the list as well, as he's been a great ambassador for IU basketball for years.

We had a stretch of about 10-12 straight years with an AJ on the squad, so I'll mention two of my all-time faves: AJ Moye (the block that will forever live on in Hoosier Lore) and AJ Guyton (Went about his business with class while destroying you on the court).

Simply. Awesome. Honestly cannot remember the last time I was this optimistic about the immediate future of IU Basketball. It's probably been since 1992-93. Well done, CAM!

Collins will probably be that guy...although Duke will be fine either way. FYI, my daughter is Spring Breaking right now with a friend in Naples. Says she loves it!

Well, that's interesting. I mean, I guess I get it on the one hand...you want to minimize distractions. But, the guy did lead the team for 9 years and has a son that will be playing baseball for IU. Do you just completely shut him out of everything?

Man what a game. USC just will not die! Want GONZ to win it all but tons of respect for what USC has been doing in this run,

Yep Lamar you are right. My quotes are blending together. We are at the 15:00 of 2nd half so I'll get to see them all again soon enough!