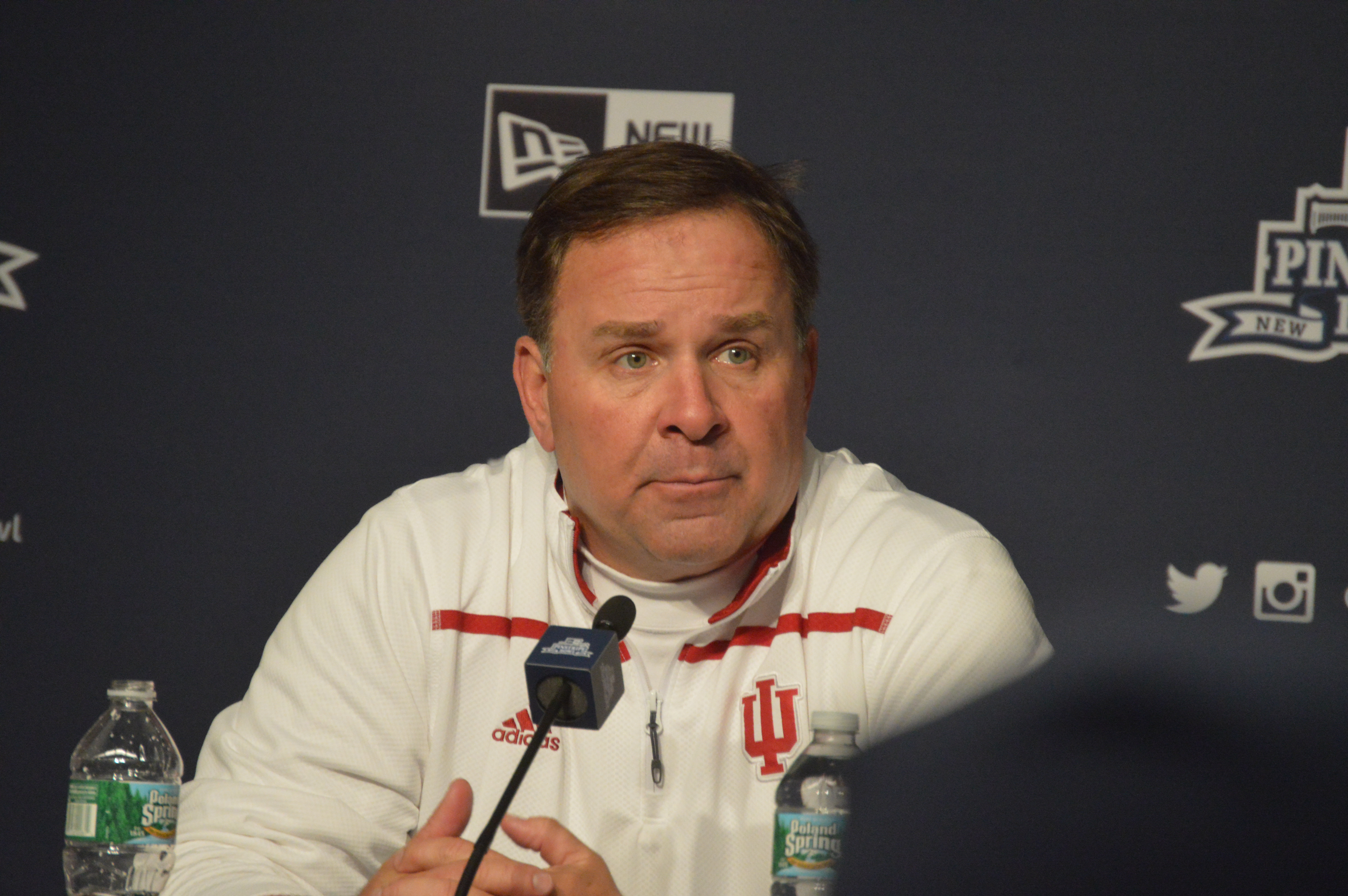 UPDATE: Here is a release that came from IU Media Relations today....

BLOOMINGTON, Ind. - Indiana head football coach Kevin Wilson announced on Wednesday the signing of 21 student-athletes to National Letters of Intent to play for the Hoosiers in 2016.

IU signed 12 offensive players, seven defensive players and two athletes. The Hoosiers added four offensive linemen, two quarterbacks, two running backs, two tight ends and two wide receivers on offense, and five defensive backs and two defensive linemen on defense.

The class features players from nine different states, including six from Ohio, four from Florida, three from Texas, two from Indiana, two from Georgia, one from Illinois, one from Maryland, one from Mississippi and one from New York.

Quarterback Richard Lagow (Plano, Texas/Plano H.S./Cisco (Texas) C.C.) and defensive back Jayme Thompson (Toledo, Ohio/Central Catholic H.S./Iowa Western C.C.) enrolled in classes this semester and will participate in spring practice.

"We are very pleased with this class," Wilson said. "The coaches did a great job building relationships. There is a lot of trust and communication that goes into recruiting, and we did some good work. Over the last couple of years, the majority of our classes featured players on the defensive side of the ball. We are counting on those players - Jonathan Crawford, Leon Thornton III, Andre Brown, Jr., Tegray Scales, Jacob Robinson and Robert McCray III - to contribute big time next year. You are always recruiting a year or two ahead, and this year was a little more offensive oriented. There are some great defensive players in this class, very good defensive backs, an active defensive end in Allen Stallings IV, and an active guy up front in Jerome Johnson. But the bulk of this class was offensive line and skill guys. As we move on down the line, we expect them to be ready to step up and play for us."
NOTE: The following was the original story that was posted Wednesday morning...
The 2016 Indiana University Football signing class is up to 20 names as of 10 a.m. this morning.
Here's the list that includes a former Michigan commit at running back in Kiante Enis, a highly touted junior college quarterback in Richard Lagow, a 4-star athlete in Jonah Morris who was named the No. 1 athlete in the Midwest by Scout.com, a 4-star in-state get in OL Coy Cronk from Lafayette Central Catholic, and several other interesting pickups.
The breakdown by position was five defensive backs, four offensive linemen, two each at tight end, running back, defensive line, quarterback and athlete, and one wide receiver.
Here's a look at the complete list as of now. There could be a few last signees still to come:
Marcelino Ball DB 6-0 200 Roswell, Ga. (Roswell H.S.)
Phil Benker WR 6-2 195 Jacksonville, Fla. (Sandalwood H.S.)
Shaun Bonner TE 6-3 250 Moultrie, Ga. (Colquitt County H.S.)
Khalil Bryant DB 5-10 200 Jacksonville, Fla. (First Coast H.S.)
Coy Cronk OL 6-5 278 Lafayette, Ind. (Lafayette Central Catholic H.S.)
Brandon Drayton DB 6-2 170 Largo, Fla. (Largo H.S.)
Kiante Enis RB 6-2 205 Saratoga, Ind. (Winchester Community H.S.)
Cole Gest RB 5-8 197 Lyndhurst, Ohio (St. Edward H.S.)
Jerome Johnson DL 6-3 295 Bassfield, Miss. (Bassfield H.S.)
Richard Lagow QB 6-6 240 Plano, Texas (Plano H.S./Cisco (Texas) C.C.)
Jonah Morris ATH 6-4 200 Akron, Ohio (Archbishop Hoban H.S.)
Tyler Natee ATH 6-0 260 Euless, Texas (Trinity H.S.)
Mackenzie Nworah OL 6-4 305 Houston, Texas (Manvel H.S.)
Peyton Ramsey QB 6-2 190 Cincinnati, Ohio (Elder H.S.)
A'Shon Riggins DB 6-0 162 Hamilton, Ohio (Hamilton H.S.)
Ryan Smith OL 6-5 280 Loveland, Ohio (Moeller H.S.)
Allen Stallings IV DL 6-2 230 Maywood, Ill. (Oak Park and River Forest H.S.)
Grayson Stover OL 6-6 295 Spring Hill, Fla. (Hudson H.S.)
Ian Thomas TE 6-5 225 Baltimore, Md. (Digital Harbor H.S./Nassau (N.Y.) C.C.)
Jayme Thompson DB 6-2 195 Toledo, Ohio (Central Catholic H.S./Iowa Western C.C.)