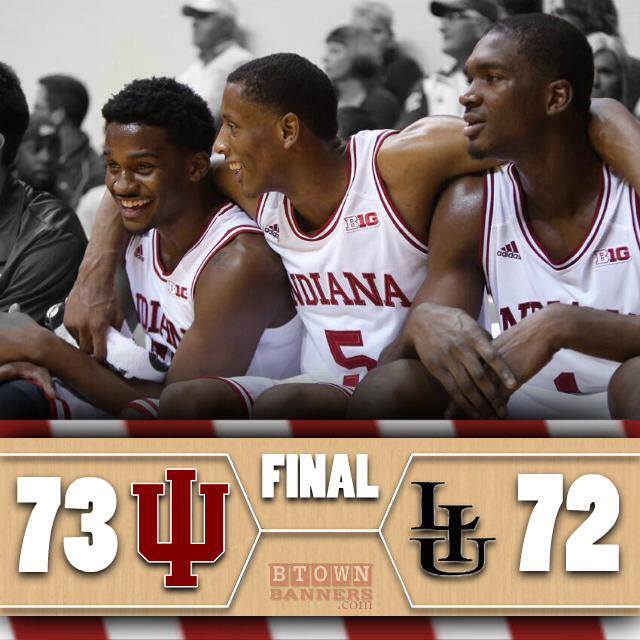 Welcome to the 2013-14 version of the Indiana Hoosiers everyone! That was what we should come to expect for this season. The unexpected. We are talented. We are also very young. We came out like most would have expected, jumping out to an early lead. Then, our youth seemed to take over it seemed. Suddenly we turned into a jump shooting team, missing shot after shot. Will had about as bad of a half as one will ever see him have. I can't even say we "righted" the ship. We survived. That is it.
The announcers appointed Will as the player of the game, but this was all Noah Vonleh. His 17 and 11 were so much bigger than Will's 19/7/6. Some will disagree with that, but without what Noah did in the First Half, we don't win this game. Yogi put up 17 points in a game where he was frustrated most of the night. Troy had 9 and 6. Jeremy had 6 and 6. Beyond that, it was slim pickings for the Hoosiers. Stan had some key minutes on both ends as did Devin.
As a team we did what you would expect on the boards. We out-rebounded them 48-35. One area more wouldn't have expected us to improve in this type of game is with the turnovers. We had 14 in a game that was up and down, and as ugly as the women in West Lafayette. We did have 13 assists on 27 field goals. I don't expect there to be many games where we shoot under 40% and win. This counts as one. A lucky one.
As fans we don't like to see this type of a win so early in the season. There will be positives that come from this game. Noah took this game and put it on his shoulders in the First Half when it seemed we had lost control. As a freshman the only thing more impressive is his patience in hectic moments. This game was no fun for anyone. There is no sugar coating that. This is just one game that will help the kids that matter more than all of us. They are young, but they all helped us age a little more on this evening.
HIGHLIGHTS: