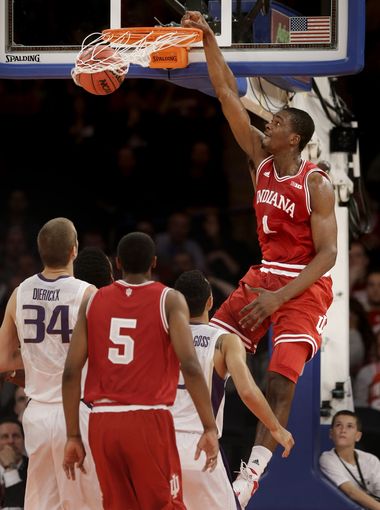 We went into MSG, and dominated unlike many thought we could. That score showed an 18 point victory, but it felt much bigger. Indiana was in complete control throughout. The kids were on display for the world to see. Troy had the game of his young college life at MSG. The kids dictated the pace, controlled the boards, and hit their FTs. End result is we all go to bed happy Hoosiers. Jeremy did not have a good game, but as good of a game as Noah Vonleh had, his double-double streak ended one rebound shy.
Our current version of the Hurryin Hoosiers out-rebounded the Huskies 47-27. You read that correctly. That was as dominant as we will be all year on the glass. With 8 minutes to go, Noah heard the collective voice of Hoosier fans urging for that last rebound. It wasn't meant to be tonight. As a team we were all over the glass. Also encouraging was how we performed at the line. As a team we went 31-36. If we can stay in that 75% range with how much we get to the line, we will be very tough to beat. One wrinkle of Tom Crean's offense we hadn't seen as much is the backcuts. They were there all game and we took advantage of a defense who over-rotated all night.
How about those kids, huh? Troy Williams was a beast tonight with 22 points and 6 boards. Yogi chipped in his normal 20 points, but had 7 assists in this one. Noah added 18 points and 9 lonely boards. Will was solid with 16 points / 4 boards / 3 assists. On the flip side, Jeremy was exceptionally bad in the first half. He had half of the team's turnovers in the half. It was a night to forget as well for Hanner. Stan and Devin offered solid minutes off the bench. Luke and Evan were fairly solid as well. Back to Jeremy and Hanner though. Yes they had rough games. That doesn't mean they can't play.
We are a young team, and hopefully everyone understands the importance of depth. When a kid has a bad game, it doesn't mean they should get kicked off the team or benched. We will very possibly need that kid to carry us in some way the next game. Lets just hope these kids have shorter memory than some of us.
Great game in a tough environment for a young group of kids. It could have been intimidating, but these kids came out hot, and never really let up. They had an intensity that was easy to get behind. As with most games we will witness this year, there were good things, as well as bad. They are very young. They are also very good. We get a real quality measuring stick up next. Hoo's up for UConn?
Photo Credit: IndyStar.com