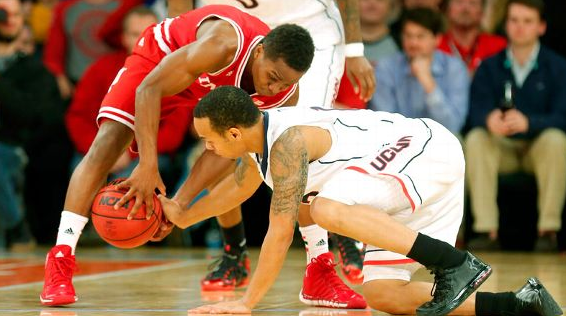 Well, losing sucks. There is no way around that. I could hear Herm Edwards ringing through my head as I find myself not as mad as I should be. Noah Vonleh was 0-1 with 2 rebounds, 4 turnovers, and 4 fouls. We had a shot to win. Yogi Ferrell was our best player on the court in the money time and went 6-19 and we had a chance to win. How did we have a chance to win against a legit top 25 team on a night where our 2 best players were struggling this bad? Depth and defense. UConn did things you would expect a team to do of that caliber at times. However, we made them look human offensively. In the past, under Crean we lose this game by 20+.
As a team it isn't pretty, but it isn't as bad as you would think for how we started. The good guys ended up with 17 turnovers. We ended up shooting 40.8% from the field as a team which is pretty decent considering the level of defense we were up against. From the line, IU was 15-22. Far fewer than previous games, but you would expect that. The true test for IU would be on the boards. On a night where Vonleh was non-existent we still ended up flush on the boards with 34 apiece which is astonishing. Props to Devin Davis for his 7 boards in the game. He had his issues down the stretch with 2 costly turnovers, but that is what you get with freshman.
Individually, it was downright ugly. If you look across the list of every player, is there any player who you can say honestly had a good game? Tom Sheehey was decent with 12 points and 4 boards. Yogi was as inefficient as you will ever see. Evan Gordon went 3-3 for 6 points. Devin Davis got 7 and 7. Jeremy had 7, but was really hit and miss no more and no less than Yogi and Noah. Troy was especially quiet after a fantastic game on Thursday. If someone can look at the stats, and explain to me how we had a shot to win, I would be grateful. I can't even comprehend how this was a 1 point game.
What to take away from this game? Well, I think this game will be the game where these kids at some point in their career point back to as a point where they realize they can be pretty good. Shooting can be improved by work during the summer. You can't teach that heart, defense, and athleticism that carried us in that game. No way should we have been in that game. Crean hates losing more than anyone of us, but he will put that tape in and show them how they stayed in that game. A loss sucks. No way around that. We will lose games this year, but we learned a lot about the heart this team will carry all year and beyond. There will be bumps along the road, but win or lose this team is exciting and easy to cheer on.