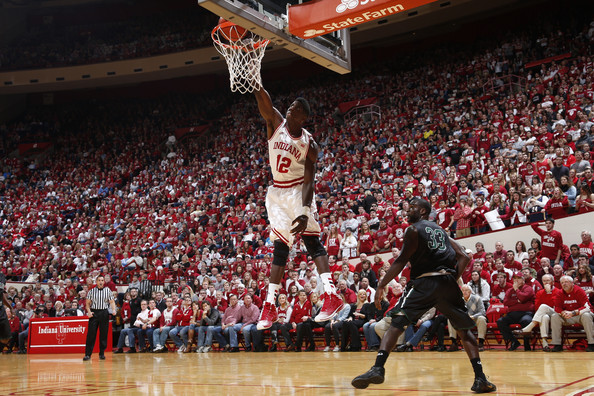 First, I want to say welcome to the first edition of post game articles I will be a part of. I will be doing about every other game. You will see various stats, graphs, and other numbers to put the game into analytical perspective. Secondly, HOLY HANNER PEREA! That is easily one of the best dunks I've seen during a game in quite some time. The difficulty of that dunk was incredible. Well done Hanner, well done!
Now, onto the game. This IU team were the heavy favorites, but I think most Hoosier fans were interested in how IU would respond after their lackluster performance against a veteran LIU-Brooklyn team. The team answered any concerns about this game quickly within the first few minutes. They attacked the basket and glass with a purpose all game. That is what they have to do every game to be successful.
Besides attacking the basket and rebounding, IU will also lean on Kevin "Yogi" Ferrell, Will Sheehey, and Noah Vonleh. So far this season, these three have accounted for: 130 of 278 points, for a 46.7% of IU's total scoring. Even though most people will remember some of the highlight dunks in this game, but "Yogi" Ferrell had one heck of a game. He led the way with 26pts, 6asts, and 3rebs. This game exemplified how much Yogi has improved on the court, and as a leader of this team. I also can't take away from Noah Vonleh's third straight double-double with 13pts and 10rebs. He is going to be huge for us this season as a Freshman, and I can't wait to see his growth over the course of the season.
One huge improvement from this season to last is blocked shots. Against Samford, IU had a total of 10 blocks, which is impressive, and 25 on the season. To put that in perspective, IU totaled only 130 last season. IU could reach that by the 17th game this season if they average the same amount of blocks in the 1st three games. The defense has been impressive so far this season, and will get a lot better once the Freshman get more adjusted to the college game! The long and athletic IU defense held Samford to just 30% shooting, and 28% from long range. Even though this is not a good Samford team, they love to run and get up shots. I don't remember too many uncontested shots given up by the Hoosiers, and that is a very good sign.
One thing I took away from this game from a bench player is Luke Fischer. He has a ton of upside, and for me, it was great to see him be aggressive against Samford. He really missed some quality practice time due to an injury, but I was happy to see his play in this game. With more practice and game time, I think he will be a good around the basket player IU needs in the future.
All around, it was a very good and pleasing performance by IU. However, there are still a few issues that concern me, and will for the entire season. The main three I noticed: Three point shooting, Free throw shooting, and zone offense. Three point shooting was at a respectable 40%, but if you take Ferrell's hot shooting out of the equation, IU shot a horrid 12.5% (1/8). That has to improve if IU wants to open up the lanes more often for their attacking game. Free throw shooting continues to be a problem, and IU shot 66%. One positive is Noah seems to be getting better in that area, which has to happen. Zone offense continues to look bad with a bunch of standing and no penetration. IU will be seeing more zone unless they can become efficient at it. The Syracuse game could be a bad one if they can't figure out the zone.
On the positive side, the IU bench continues to impress and not be a hindrance. Devin Davis has really been impressive, and a lot further along than what most thought. He will be a very good player for IU this season and on. Hanner Perea is showing a more polished game from what he showed last season. He is a lot more comfortable on both sides of the ball, and this game really showed that. Rebounding, dunking, blocking and altering shots, and even his footwork have really improved.
This game was very impressive from our Hoosier team. They used the last game as a good learning experience, and really went at it against Samford. This game has me excited of what they are capable of accomplishing this season.
(Picture was found on Google, no copyright intended)