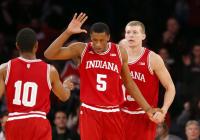 Let me begin by saying this is speculation. Educated speculation, but speculation nonetheless.
If there's one thing I've learned in my 18 years covering Indiana basketball it's that nothing is as simple as you would think it is. 
Players come and players go. Players that you think aren't transferring end up doing just that. Players that you're sure are definitely gone end up returning for another season.
And so until we have heard a final decision I won't go to the bank with any of this. But it's late March and once you're eliminated from the NCAA Tournament this is the kind of topic that begins weighing on the minds of Hoosier Nation.
Should I stay or should I go?
Let's throw out some names and get some opinions. Please feel free to weigh in on any of these guys. If you think I'm wrong, say so. If you think I'm right, you can agree, too. But I'm hoping we get some good discussion going on this one.
1. TROY WILLIAMS
Options: He could go to the NBA, go overseas, graduate from IU at the end of this semester and transfer to another school and play right away or return to Indiana for his final season of eligibility.
What I think he'll do: My guess is that Troy will be looking to collect a paycheck. Whether that's in the NBA or overseas, I'm not sure. But I'm guessing he's gone. I think the least possible option would be to transfer to another school. I think if he decides to play his final year of eligibility he would do so at Indiana. That's just my feeling. Is he ready for the NBA? I don't think so but no one is asking me either. Something just tells me though that if he hears any positive feedback at all from NBA folks that he'll probably make himself eligible for the NBA Draft. Again, it's just an opinion.
2. THOMAS BRYANT
Options: He go make himself eligible for the NBA Draft or he could return for his sophomore season at IU.
What I think he'll do: I think Bryant comes back. I think he likes school and he sees that he can improve if he sticks around and puts in the effort that he would need to put in. If he has a big year as a sophomore I think he's probably gone, just like Cody Zeller did. I know that Bryant has gotten some love from some of the draft boards but I just think if he had one more solid season that he could do a lot for his draft stock. Will he listen to what all of the NBA people have to say? Absolutely. But I think he's a pretty smart young man and he'll look at next year and realize how much of a dominant force he could be on that team.
3. JAMES BLACKMON JR.
Options: He could make himself eligible for the NBA Draft, transfer to another school and sit out a year, or return to Indiana.
What I think he'll do: I've heard the transfer rumors and they just don't make sense to me. I think Blackmon Jr. really has two options: He either goes to the NBA or he returns for one more season at Indiana. And again, I think the highest percentage here has him returning to IU. I can't imagine a lot of NBA people telling him that he should come out after what transpired from an injury standpoint this season. But the transfer rumors just make no sense to me at all. The only way he would transfer would be if he opted to go the Division II route but why would you do that? I can't imagine him transferring to a D1 school and sitting out another year. It just makes absolutely no sense to me. I think he's back in an IU uniform next season.
4. OG ANUNOBY
Options: Declare for the NBA Draft or return to IU for his sophomore season.
What I think he'll do: I know people cringe just seeing his name here but OG has been getting some love. I think he'll be at Indiana next season though. He may even be there a few more years. I think with a few more years of seasoning, OG could be a dynamic player both at this level and the next one. Again, I'm sure he'll listen to whatever people are saying but my guess is that he'll be back and will be part of the starting rotation.
5. TIM PRILLER
Options: Stay or go.
What I think he'll do: The only reason I put him on here is because I was on a radio show in Indy on Monday and was asked about him by Jake Query on 1260 WNDE. My answer there was depending on who is returning and what the scholarship numbers situation is, I guess he could be a casualty. But I really don't know. I think a lot will depend on what players leave and what players decide to stay. Unless you see him contributing at some point to this IU basketball team other than being the Victory Cigar, though, I just question how you can continue to allow him to occupy a roster spot.
So those are five players to think about. What do you think? 
Do you they stay or do they go?
Edited by IndyHutch